by

Post by RightEatingHabits.com – I USED to love waking up in the morning to the aroma of French-pressed Arabica coffee. Now, I skip the coffee and start the day with a simple weight loss and perk-me-up regimen: drink a tall glass of warm lemon water or freshly squeezed lemon juice (with no sugar added).  I normally squeeze half a lemon into a glass of warm water and drink it first thing in the morning on an empty stomach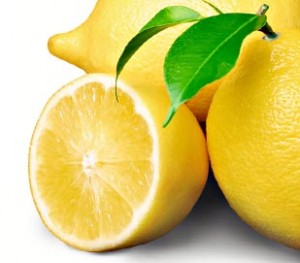 Lemon for weight loss?
Does it work? Yes, lemon is one fruit weight watchers can't do without. Drinking lemon water or lemon juice is a cheap, effective and natural way of keeping our bodies cleansed and hydrated.

Lemon Properties

What's so special and powerful about this yellow citrus fruit with "acne" skin?

Lemon Water Lowers Blood Sugar Levels Caused By High Glycemic Foods
A glass of freshly squeezed lemon juice or lemon water  is all you need to substantially block the effect of high glycemic foods on our blood sugar levels. Drink a glass of warm lemon water or lemon juice before a heavy, high carbohydrate meal such as rice noodles, fried rice or baked potatoes may help to prevent rapid blood sugar spikes. Find out low glycemic index diet boosts weight loss.

Lemon Water Alkalinizes The Blood
Though lemon is acidic by nature, it becomes alkaline upon digestion (metabolism). Drink a glass of lemon juice or lemon water every day to balance the acidity that comes from consuming too much acidic and high glycemic index foods. Processed foods and red meats are acidic. A slightly alkaline blood system is our best defence against ageing and diseases.

Lemon Is Rich In Vitamin C
I love lemons for the generous doses of Vitamin C. A daily dose of lemon juice or lemon water not only boosts our immune system but can help us fight off colds. A slice of lemon is estimated to have about 3 mg of Vitamin C. Depending on the size of the lemon, a lemon could have an equivalent of 8 wedges or more, or at least 24 mg of Vitamin C. A glass of lemon juice (=one lemon) a day will give us at least 24 mg of Vitamin C, not bad for one small fruit.
The Recommended Dietary (Daily) Allowances for Vitamin C – according to the Institute of Medicine (National Academy of Sciences) in a report issued in April 2000:
Adult Women: 75 mg
Adult Men: 90 mg
Children aged 1-3 years: 15 mg
Children aged 4-8 years: 25 mg
Children aged 9-13 years: 45 mg
Children aged 14-18 years:
75 mg for boys and 65 mg for girls
Pregnant Women: 80-85 mg
Lactating Women: 115-120 mg
Lemon Juice Is A Natural Liver And Colon Cleanser
Lemon juice or lemon water is a natural liver and colon cleanser. It stimulates a sluggish liver, clears the colon and gives your body a gentle, internal "rinse" and helps speed up the bowel movements!
Lemon is one SuperFood with natural, healing properties; a fruit which you should add to your daily diet if you have not. And if you're thinking about losing weight naturally and painlessly, have a "cuppa" … of lemon juice every day.
(Free weight loss tip:  Besides starting the day with a warm glass of lemon juice, make yourself a cup of matcha green tea to stimulate the body to burn even more belly fat.)

Tips on How to Choose Lemons

Choose fully-ripened lemons. That means look for lemons with a nice yellow color. Lemons with green tinge are picked when they are not fully ripe so they taste more acidic. Choose lemons that are heavy and thin-skinned (signs of juiciness) and have a finely textured skin.

Lemonade Diet:  Any Weight Loss Benefits?
Kym Johnson's secret to natural weight loss is a lemonade diet. The lemonade weight loss diet is a 14-day weight loss program that comes with a meal plan and an exercise program. It has the same natural ingredients as The Master Cleanse diet – but packaged in the form of a pill.
Doctors at the Mayo Clinic say there is no scientific evidence that a lemonade diet or master cleanse diet really works,  but some people claim it works in helping them feel lighter.
Has anyone tried it yet?
© Teresa Cheong RightEatingHabits.com
Possibly Related Posts: