by

Post by RightEatingHabits.com – Start your day with a cup of matcha green tea, a healthy beverage that can potentially help you eliminate toxins, give your internal system a thorough cleanse – and burn belly fat fast. Matcha which means green tea powder, is a beverage enjoyed by Zen monks and the upper echelons of society in Japan for well over 900 years – ever since the green tea plant was first brought to Japan in the 12th century.
The powdered green tea is the preferred choice at traditional Japanese tea ceremonies. For a change, instead of coffee, kickstart your morning with a cup of antioxidant-rich matcha green tea. Here is a simple recipe to try: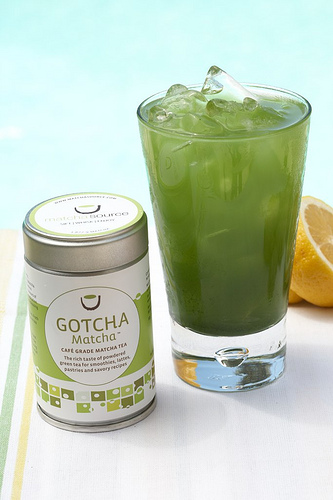 How to make an Iced Matcha Green Tea Latte
Have your matcha green tea beverage the way you like it. Hot. Iced. Or, blended with milk (soy, almond, rice or cow's milk) for a tasty matcha green tea latte.
Sift 2 tsps of matcha green tea powder into a shaker
Dissolve the matcha green tea powder by adding 2 oz of hot water (not boiling hot) or your choice of milk (almond, soy, rice or cow's milk)
Stir until the matcha green tea powder becomes a smooth paste
Fill shaker with 1 cup of ice
Add 6 oz of cow, almond, soy or rice milk
Shake well to blend the green tea powder with milk
Strain your chilled green tea latte over a tall glass with fresh ice
Benefits of drinking Matcha Green Tea
Matcha green tea (in powder form) is a concentrated source of antioxidants, particularly, a type of polyphenols called catechins which studies have shown to have cancer-fighting and heart-protecting properties.
Feeling stressed? Drinking matcha green tea could soothe the nerves due to the calming effect of L-theanine – an amino acid which is found in abundance in green tea powder.
How many cups of Matcha Green Tea per day?
It is recommended that adults consume no more than 300 mg of caffeine per day.
One 8 oz cup of green tea contains about 24 to 40 mg of caffeine. The amount of caffeine is affected by the steeping time.
It is unlikely you will get a caffeine overdose with just two to three cups of green tea! But, avoid drinking tea (or coffee) at night as the caffeine may keep you wide awake throughout the day – unless of course, that's what you want.
(One 8 oz cup of brewed coffee can contain anywhere between 90 mg to 200 mg of caffeine)
Where to buy Matcha Green Tea

For a refreshing healthy beverage, buy organically-grown and premium-grade matcha green tea from Matcha Source.
Click to save $3 off your first order of premium authentic matcha tea
© Teresa Cheong, RightEatingHabits.com
Possibly Related Posts: