by

Post by RightEatingHabits.com – Do you know that your cup of green tea is more than a calming and relaxation drink? There are many benefits of drinking green tea every day. Most recent research shows that drinking several cups of green tea a day may improve your liver health and prevent or slow the progression of non-alcoholic fatty liver disease.
According to researchers from the Duke University School of Medicine and Graduate Medical School (Duke-NUS), caffeine in tea (and coffee) stimulates the metabolism or breakdown of lipids (fats) in the liver of mice which have been fed on a high-fat diet.
Non-alcoholic fatty liver is a type of liver condition which is not caused by excessive alcohol intake, but poor diet, obesity and health conditions such as diabetes. It is estimated that three out of 10 people in the US have non-alcoholic fatty liver. If left unchecked, it can worsen and progress into liver cirrhosis.
You may have non-alcoholic fatty liver disease if fats form 5 to 10% of your liver's total weight. Follow these eating tips for healthy liver.
How much caffeine is needed for fats breakdown in a fatty liver?
To reap the full benefits of green tea or any other tea on improving a fatty liver condition, the researchers suggest four cups of tea (or coffee) a day as optimal in preventing or slowing the progression of non-alcoholic fatty liver disease. They did not state the exact amount of caffeine.
Should you drink green tea or coffee?
This is more of a personal preference, really. But coffee does contain higher levels of caffeine than green tea.
An 8-ounce cup of brewed coffee (equivalent to 95 to 200mg of caffeine) contains about four times more caffeine than an 8-ounce cup of green tea. An 8 ounce cup of green tea has just about 24 to 45mg of caffeine.
Most people can safely consume 200 mg to 300 mg of caffeine per day safely without any serious side effects.
Four cups of green tea is equivalent to about 96 to 180mg of caffeine – well within the maximum caffeine limits per day. Three cups of lightly brewed coffee will probably give you about 285mg of caffeine. Also within the maximum caffeine limit.

Where can you get good quality green tea?
You could buy green tea from specialty tea stores.
Or, get it online.
Brew a cup of green tea using fresh green tea leaves which you can buy online at Art of Tea – a tea importer and wholesaler based in Los Angeles who buys directly from tea growers and sells a fine range of organic teas.
Or, you could make a rejuvenating cup of matcha green tea using only the finest green tea powder. Get $3 off when you buy matcha green tea powder from Matcha Source. Matcha Source offers three premium grades of matcha green tea powder.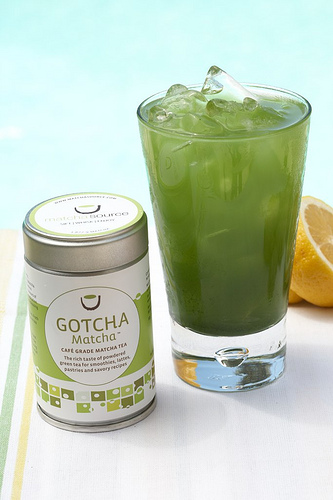 P.S.
Reap the full benefits of green tea by brewing for at least three minutes if you are using fresh green tea leaves. 
P.P.S.
Get more eating tips on how to lose belly fat.
© Teresa Cheong, RightEatingHabits.com
Possibly Related Posts: